"Venom" - Review
"Venom" - Review
By:
William Morey
on
Fri, 10/05/2018 - 13:06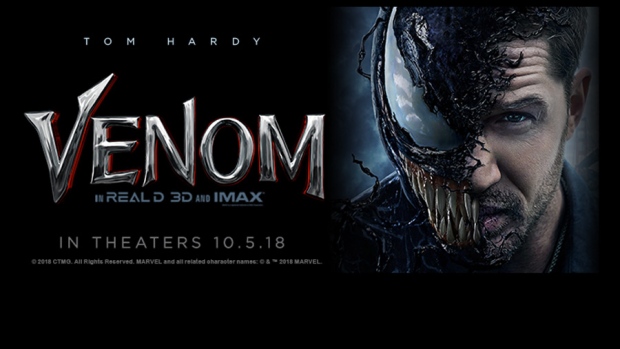 Venom is a dumb character; he's simply a roided out monster version of Spider-Man, who later became a vigilante anti-hero. He is an annoying character from an annoying era of comics, the '90s, which comic book movies should probably steer clear of unless they're making fun of the tropes of said era (see, the Deadpool movies). So, here we are with Venom, the character's second big screen debut (he was previously seen played by Topher Grace in 2007's Spider-Man 3). Venom is profoundly stupid and on the whole doesn't really work. However, the second half of the movie is so wonderfully goofy, insane and fun that I can't just write the whole thing off. But make no mistake; Venom is a bad, bad movie.
 
Eddie Brock (Tom Hardy) is a Vice-style on-the-ground reporter who gets up in the face of the corporate people he interviews. His fiancée Anne (Michelle Williams) is a corporate lawyer who is currently representing the Life Foundation – a mega-corporation run by the Elon Musk-esque Carlton Drake (Riz Ahmed). When Eddie is tasked with interviewing Drake, instead of writing the puff piece his network wants, he decides to do a hard-hitting interview…which not only gets him fired, it gets Anne fired too. Six months later, Eddie has crawled into a bottle and Anne has broken up with him. Meanwhile, the Life Foundation is doing experiments on homeless people with some alien goo monsters they found in space. The goo is actually a kind of living costume and it's killing the homeless people who are being experimented on. One of the scientists working on the project (Jenny Slate) is concerned about the ethical implications of all of this and breaks Eddie Brock into the Life Foundation. In the process Eddie is bonded with a symbiote calling itself "Venom." This gives Eddie the power to become a monstrous version of Spider-Man (don't ask why he looks like Spider-Man, he just does, okay?!?!). Eddie now must come to terms with the creature living inside him, and the two eventually start fighting against Carlton Drake and his company.
 
The first act of Venom is one of the most generic genre exercises in recent memory. Characters speak only in expository dialogue and there's no humor, heart or really anything else. You might start thinking the whole movie is going to be like this – a forgettable superhero film that no one will care about. But then Eddie Brock bonds with Venom, and the movie goes pants-crapping insane. Tom Hardy starts having arguments with this parasitic creature, mostly about the ethics of eating people's faces, but also has a craving for … tater tots. Hardy pulls off a hilarious and totally bizarre performance that is completely different than the film around him. This middle stretch of the film is bananas in the best way, and turns a run-of-the-mill cash grab into a cult oddity … almost, because eventually everything falls to the wayside so two CGI creatures can punch each other in the third act. But that second act? That's kind of awesome.
 
The biggest problem with Venom is that it seems like some folks involved in the production realized that the character is stupid and that they should do whatever they wanted, while others wanted to make a badass superhero movie. The tension between the two halves doesn't really work, and the script by Jeff Pinkner and Kelly Marcel from a story by Pinkner and Scott Rosenberg is a lopsided mess of silly-mixed-with-grim-and-gritty. Ruben Fleischer's direction is fairly generic and drab, which doesn't help with the film's uneven tone.
 
Like the rest of the movie, the acting is all over the place. Riz Ahmed is the most subdued villain ever – giving rambling, ponderous speeches filled with biblical allusions about how humans suck. Poor Jenny Slate is saddled with nothing but unintelligible technobabble, and Michelle Williams has the thankless role of the love interest; however, once the movie goes crazy, she does get to have some fun. Tom Hardy, on the other hand, is having the time of his life, giving a hilarious madcap performance, which is really the only reason to recommend Venom at all.
 
Venom isn't a good movie in the slightest. The first and third acts are predictable and generic; the second act is a blast. To quote Venom himself, the film is like watching a "turd on the wind." Kind of amusing, but I could have spent my time doing something more productive.
 
One and a half stars out of four.