Notes from the Rep Biz - 11-10-2017
Notes from the Rep Biz - 11-10-2017
By:
William Morey
on
Fri, 11/10/2017 - 11:58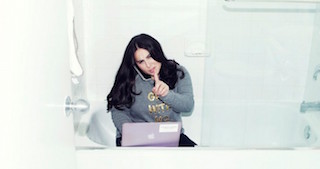 At WME:
 
Agent Adam Venit has taken a leave of absence from the agency following sexual harassment allegations made by Terry Crews, who filed a police report about the incident on Wednesday. While Venit was not on Crews' team, the actor has left the agency. As of right now, Crews will remain agentless but will continue to be managed by Troy Zien at 3 Arts.
 
Source: Hollywood Reporter
 
At CAA:
 
Instagram star and creator of Girl with No Job Claudia Oshry has signed with Paul Cazers. Oshry became famous as the creator of the instagram account Girl with No Job, which has led to several deals for her including a live streaming show called The Morning Breath from Verizon's Oath. She's also signed with manager Seth Jacobs at Brillstein Entertainment Partners.
 
At Paradigm:
 
Oscar winning writer/director Kristof Deak has signed with Paradigm. Deak won the Oscar for best short film Sing (Mindenki), and is currently developing the feature Cosmic, based on the novel by Frank Cottrell Boyce.
 
At ICM:
 
Scorpion star Elyes Gabel has left Paradigm, and joined his agent Brad Schenck over at ICM. He continues to be repped by Gary O'Sullivan at Troika in the U.K.
 
Lindsay Samakow has joined ICM as a senior lectures agent where she will work under the Royce Carlton banner, which was acquired by the agency last month.
Other Signings Around Town:
 
Jane the Virgin star Gina Rodriguez has left APA, and according to Deadline is in the process of leaving her management company, Primary Wave. It is unclear if Rodriguez's move is due to the sexual harassment allegations against APA agent Tyler Grasham and/or Primary Wave manager David Guillod (who resigned this past weekend).
 
Management Notes:
 
Lit manager Lucy Stutz has joined Rain Management Group. She comes to Rain from Tantrum Management (a company she founded) where she managed writers and directors with a specific focus on female talent.
 
Veteran manager Bonnie Liedtke has left Principato Young Entertainment and joined Authentic Talent & Literary Management. It is unclear who will follow her to the new gig but the majority are expected to follow. Her list of clients includes Joel Courtney, Cole Sprouse, and Aimee Teegarden.
 
Sources: Deadline, Hollywood Reporter, Variety.