"The Old Man and the Gun" - Review
"The Old Man and the Gun" - Review
By:
William Morey
on
Wed, 10/03/2018 - 13:29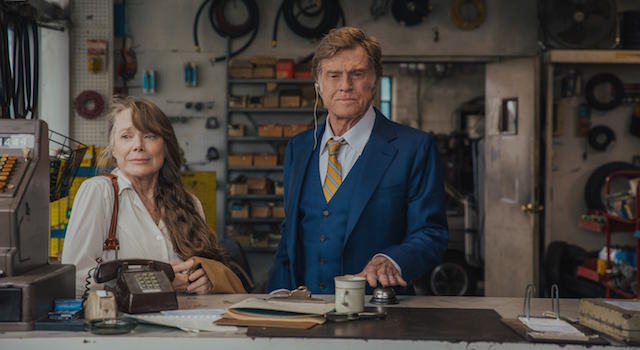 What exactly makes someone free? Is it the freedom to do whatever you want when you want, consequences be damned? Is it freedom to have a job you're good at? Or is freedom more in the mind? The characters in The Old Man and the Gun all embody these questions, but none more so than Forrest Tucker (Robert Redford), the real-life career criminal bank robber who also escaped from prison eighteen times. Forrest never robbed a bank violently, and never did it for the money; the film posits that he did it for the thrill and the sense of freedom it gave him. It's a perfect role for Redford's final performance (although that may not be entirely true), a gentlemanly outlaw who oozes affable charm.
 
Set in 1981, the film opens with Forrest having just completing a recent bank job and on the run from the cops. As he speeds along the highway he sees Jewel (Sissy Spacek) on the side of the road, her car broken down. As a dodge from the authorities, Forrest stops and helps Jewel out, and the two begin a romance. Even while romancing Jewel, Forrest continues to rob banks along with his crew of other old timers, Teddy (Danny Glover) and Waller (Tom Waits). All the while, Detective John Hurt (Casey Affleck) is hot on their trail trying to bring them in. And that's about all the narrative the film really has. This isn't a movie driven by plot or incident – it's really a film driven by characters talking to each other about their future, their hopes, and desires. Because of this easy going, loose structure it feels like a movie Robert Altman could have made in the late '70s or early '80s.
 
Robert Redford is fantastic as Forrest. As I said before, he gives the character such an easygoing likeability that you just can't help but root for him. Sissy Spacek also gives a wonderfully nuanced performance that has a lot of warmth and a lot of heartbreak. This is the first time Redford and Spacek have worked together, which is surprising because they have AMAZING chemistry together. Casey Affleck is also fun as the detective determined to arrest Forrest. Tom Waits and Danny Glover don't have a whole lot to do as this is really Redford's show, but they are both funny and warm.
 
Writer/director David Lowery manages to get the heart and soul of a seventies movie which is no small feat. And even though many of the conversations characters have which each other are philosophical in nature, they all feel like real conversations. Lowery takes the easygoing likability of Redford's performance and shoots it through the entire film. However, the bank robberies that are on screen are staged effectively and with a bit of suspense. The film does feel a little slow in the middle (this is also my problem with a lot of Altman films as well).
 
The Old Man and the Gun is a charming little film that is a great send-off for Redford (that is, of course, if he really does stick to his retirement plans). It investigates just what it means to be free and happy. The film feels like a good appetizer for the heavy Oscar movies that will be released soon. All in all, it's definitely worth seeing.  
 
Three out of Four stars.