Yearly Sports Roundup - 2017!
Yearly Sports Roundup - 2017!
By:
Kevin McNamara
on
Fri, 12/15/2017 - 13:37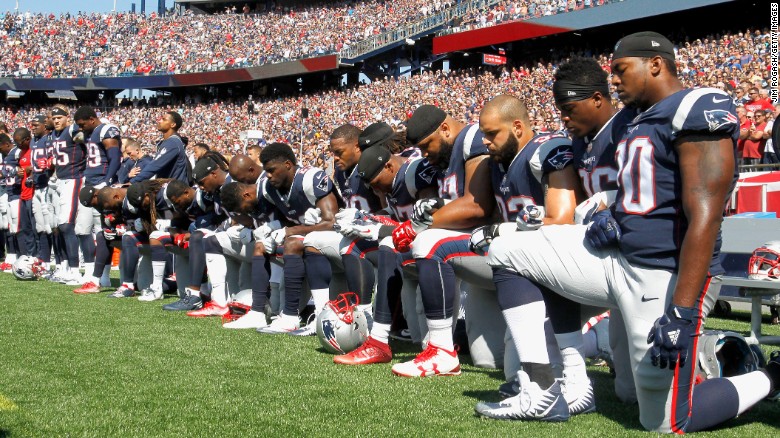 Perhaps the only industry with more movement than Hollywood is professional sports. We'll recap it all here in our regular look at the happenings across the world of sport. This week we're gonna do something a little different, and look at the best sports stories of the entire year. Thanks for tuning in so far!
 
NFL
The story of the NFL in 2017 can't be told without mentioning the miraculous Super Bowl comeback by the New England Patriots against the Atlanta Falcons. With 8:31 remaining in the third quarter, running back and Adisa Bakari client Tevin Coleman caught a six-yard touchdown pass from quarterback Matt Ryan, a Tom Condon signing, to give the Falcons a seemingly insurmountable 28-3 lead. You know the rest- despite the Falcons still holding a healthy 28-9 lead to start the fourth quarter, the legendary Tom Brady engineered a comeback for the record books, leading the Patriots to three scoring drives in the fourth quarter as well as the winning score in overtime. Brady, a Don Yee client, threw touchdown passes to wide receiver and Select Sports Group client Danny Amendola, as well as running back James White during the comeback. While Brady walked away with the game's MVP honors, it was White who perhaps deserved it most. The Jeff Whitney client set Super Bowl records with 14 receptions as well as 20 total points scored, which included the only overtime points ever scored in the history of the game. Unsurprisingly, the Patriots incredible 25 point comeback is the largest in the history of the Super Bowl, as well as the third-largest at any point in the postseason overall. Stay strong, Falcons fans. 
 
But the biggest sports story of the year has had very little to do with anything actually occurring on the field of play. The movement started by Colin Kaepernick last season to kneel during the pregame national anthem went mainstream this year, at times dominating the national debate and eventually becoming the target of ire from the commander-in-chief himself. Kaepernick, who undoubtedly lost his job in the NFL due to the 'distraction' his protest has created, appears poised to have his career sacrificed on the altar of progress. His agents Jeff Nalley and Sean Kiernan have had no luck even getting a team to accept him in a backup role, a role that he's innately overqualified for. He becomes the NFL's Icarus, forever cast out as a reminder to the players not to fly too close to the sun. League owners, in their enduring cowardice, are content to start (and lose with) such luminaries as Scott Tolzien, Tom Savage, Nathan Peterman, Mike Glennon, and Brock Osweiler. The number of times these quarterbacks end up on the ground after getting sacked doesn't matter, so long as they don't dare drop to it before the game begins. But Kap's decision has helped spark a conversation about race and about America that isn't poised to end any time soon. And his legacy will be far more enduring as an activist then it ever would have been as a Super Bowl-caliber quarterback. 
 
NBA
No matter how much anyone may be sick of him by now, there's no doubt that LaVar Ball dominated the NBA & college basketball news cycle in a way thats never been seen before by a non player or coach. A year ago, Ball was merely a little-known dad to a top NCAA prospect, his son and UCLA guard Lonzo Ball. Through a series of outlandish comments about his sons' basketball ability, LaVar rocketed to fame in a way reminiscent of Donald Trump's rise to the presidency. Whether it was saying Lonzo was better than back-to-back MVP Stephen Curry or that he himself, a 2.2 ppg scorer at Washington State three decades ago, could beat Michael Jordan in one-on-one, LaVar turned the nation's spotlight to his Chino Hills home and his family into the Basketball Kardashians. Lonzo, now a rookie with the Los Angeles Lakers, and his agent Harrison Gaines have the microscope on them in a way that hasn't been seen in a rookie prospect in some time, with every game a referendum not just on his ability but also the relevance of his family. LaVar has saved his boldest move for last, pulling his sons LiAngelo and LaMelo out of school and signing them with a professional team in Lithuania. This comes after LiAngelo was suspended from UCLA following his arrest for shoplifting in China, an international incident that reached the highest levels of both governments. It makes perfect sense that in 2017, a story would emerge that put the Ball family and Donald Trump on a collision course. Mercifully, the nation was spared a press conference containing both men. 
 
Meanwhile, one year after the Golden State Warriors shocked the basketball cognoscenti by signing the all-world Kevin Durant, the NBA lost its mind trying to keep pace with the record-setters out west. After Durant, who is with Roc Nation, helped the Warriors easily cruise past the competition for their second title in three years, the rest of the league resolved to fight fire with fire, resulting in one of the craziest offseasons of player-acquisition the NBA has ever seen. First it was reigning All-NBA player Jimmy Butler, a Bernie Lee client, being sent to Minnesota in exchange for two prospects and a draft pick. Then nine time All-Star point guard and CAA client Chris Paul was traded from the Clippers to the Houston Rockets to team up with Landmark's James Harden. Not to be outdone, the Oklahoma City Thunder went double dipping, adding four-time All-Star Paul George from the Indiana Pacers and the inimitable Carmelo Anthony from the New York Knicks. The CAA pair have teamed up with reigning MVP and Wasserman client Russell Westbrook to form a trio nobody wants to face in the playoffs. Out east, the Boston Celtics made a pair of splash moves of their own, acquiring All-Star swingman and Priority Sports signing Gordon Hayward away from Utah and trading for guard Kyrie Irving, another four-time All-Star as well as an accomplished planetary scientist. Each of these moves was made with the idea of challenging Golden State as soon as possible, but only one team can hoist the trophy. 
 
MLB
No sport enjoyed a more exciting, controversy-free season quite like the MLB this year. Filled with strikeouts and homers, baseball is surging back to prominence as the NFL struggles with problems both existential and of their own making. Yankee rookie slugger and PSI Sports client Aaron Judge captivated hearts and minds in the Big Apple, setting a major league record with 52 home runs as rookie. Across the country, the LA Dodgers and fellow rookie sensation Cody Bellinger, a Scott Boras signing, had a season for the ages. The Dodgers made it all the way to World Series for the first time in 30 years and at one point won 43 out of 50 games, matching an all-time record set by the 1912 Giants. Not to be outdone, the Cleveland Indians set an American League record by winning 22 consecutive games in August & September, surpassing a record set by the 1880 Chicago White Stockings! But no team had a season quite like the Houston Astros, who took home the Fall Classic by beating those Dodgers four games to three in a World Series that had everything. Center fielder George Springer, a TLA client, took home series MVP honors after smacking a record five home runs in those seven games. Both teams set a World Series record with 25 home runs between them, a fitting end to a season that saw more home runs hit than any season in major league history. Strikeouts continue to rise as well, and incredibly there also were more K's this year than any season in history. With offseason meetings in effect and players beginning to sign with new clubs, there's no telling what excitement next season might bring for America's pastime. 
Boxing
There was perhaps no singular sports event discussed more this year than the Vegas clash between undefeated five-time boxing champ Floyd Mayweather and the electric Conor McGregor, a UFC legend but boxing neophyte. Many expected the fight would be an embarassing sham, with Mayweather easily dispatching McGregor and cruising to a reported payout of over $100 million, but the Irishmen battled valiantly for ten rounds before succumbing to a series of blows to the face and, eventually, a TKO. While Mayweather, who is with ICM, ultimately extended his perfect boxing record to 50-0, McGregor proved his legitimacy as a fighter of all varieties, and left open the door for future clashes in the ring. Already, the whispers have begun that Filipino legend Manny Pacquiao would be willing to meet the boisterous Paradigm client in the ring. Pacquiao no doubt senses the allure of getting his own massive payout, perhaps one close to the incredible half a billion the fighters received in total back in August. By outmaneuvering UFC boss Dana White and venturing outside the Octagon for a massive payday, McGregor has provided a road map for fellow fighters to follow should they tire of the UFC's heavy-handedness and seek to control their own destiny.
College Basketball
The seedy underbelly of college sports was exposed in a big way this year in a pay-for-play scandal that looks likely to drag on for months if not years. At the heart of the controversy is Louisville and its now former coach Rick Pitino, who it was revealed was funneling large amounts of money to top recruits to come play for the university. But the damage was not limited just to the Cardinals, as basketball coaches at Auburn, Miami, Oklahoma State, South Carolina, Alabama, and USC were all affected by an FBI probe that is still ongoing. What has separated this scandal from past run-ins with law enforcement is that apparel companies like Adidas and Nike were bankrolling these operations, in exchange for these programs directing players to them once they turned pro. The legendary title-winning coach Pitino has now been unceremoniously fired from the program he essentially helped create, and the legal battle between he and the university over the money in his contract is only just getting started. Meanwhile, ASM Sports agent Andy Miller has been forced to relinquish his agent certification and can no longer represent clients after the FBI arrested one of his former employees as part of the sting. Adidas' global head of marketing was also given the axe as part of a house-cleaning operation, and all players affected have had their eligibility frozen for the time being. This thing is still in its early stages, and whatever happens in the courtroom will reverberate in people's minds far longer than whatever happens on the court in March will.