Box Office Round Up - 4-2-2018
Box Office Round Up - 4-2-2018
By:
William Morey
on
Mon, 04/02/2018 - 10:23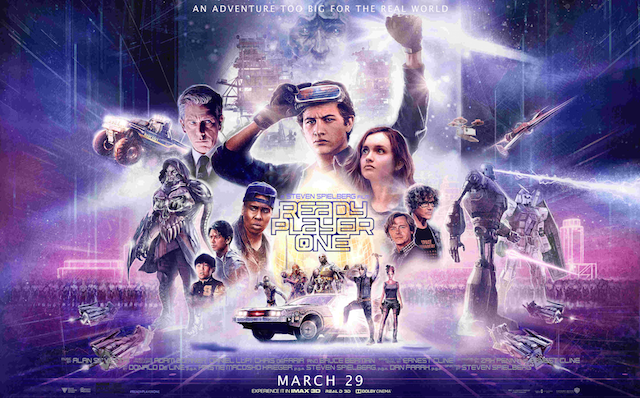 Steven Spielberg's Ready Player One won the weekend with a $41 million haul. This is Spielberg's largest opening weekend in ten years, the previous high being 2008's Indiana Jones and the Kingdom of the Crystal Skull. This is in line with box office predictions going in to the weekend. It's tough to say how the film will fair going forward – it's unopposed this upcoming weekend, but on April 13th it will go head to head with Dwayne Johnson's Rampage. Considering how well Jumanji: Welcome to the Jungle did, it's fair to say it'll be a tough competition. For now, the folks at CAA are happy as they represent Spielberg, author Ernest Cline, and star Olivia Cooke. WME is getting in on this cyberpunk weekend as well – they rep stars Tye Sheridan and Lena Waithe.
 
Tyler Perry's Acrimony came in second place with $17 million, knocking Black Panther down to third place. This is a very healthy start for the film, and it will have a good amount of legs going forward as counter programming to the big blockbuster fair that'll be rolling out for the rest of the month. WME, which reps writer/director Perry, should be pleased with these results, and UTA, which reps star Taraji P. Henson, will also be happy.
 
Despite being in third place with $11.2 million, Black Panther is continuing its historic box office run – the film has now made $650 million domestically, and most likely by the time it ends its domestic run will be the third highest domestic grossing film of all time (behind Jurassic World and Titanic).
 
The faith based I Can Only Imagine is still going strong in fourth place with $11 million. And Pacific Rim: Uprising dropped from first place to fifth place with $9.2 million (that's a 65% drop), but the film is still doing well internationally with a total of $186 million made overseas.  
 
Outside the top five – Sherlock Gnomes dropped from fourth to sixth place. Love, Simon stayed in seventh and Tomb Raider came in eighth place. An interesting note about Tomb Raider is that the film was met in the U.S. with a bit of a shrug – internationally it's been doing really well with $194 million haul, and has been bolstered in Asian markets by the presence of co-star Daniel Wu.
 
In ninth place was A Wrinkle in Time and Paul: Apostle of Christ came in tenth. Outside the top ten, Isle of Dogs expanded to more theaters and did pretty well. While the culmination of the God's Not Dead trilogy was a disappointment compared to the other two entries.
 
Next Week: Parents keep teenagers from having sex in Blockers, everyone tries to stay silent so monsters don't eat them in the much anticipated A Quiet Place, the inspirational volleyball story The Miracle Season comes to play, and Ted Kennedy's 1969 car crash is explored in Chappaquiddick.
 
1. Ready Player One ($41 MM)
Dir: Steven Spielberg (CAA)
Writers: Ernest Cline (CAA|Farah Films), Zak Penn (UTA)
 
Cast: Tye Sheridan (WME|Mosaic)
         Olivia Cooke (CAA|Grandview|Shepherd Management - UK)
         Lena Waithe (WME|Mission Entertainment)
 
2. Tyler Perry's Acrimony ($17 MM)
Dir: Tyler Perry (WME)
Writer: Tyler Perry (WME)
 
Cast: Tarji P. Henson (UTA)
         Lyriq Bent (Buchwald|Seth Management|Associates Talent & Literary – CA)
 
3.  Black Panther ($11.2 MM)
Dir: Ryan Coogler (WME)
Writers: Ryan Coogler (WME) and Joe Robert Cole (CAA|Circle of Confusion)  
 
Cast: Chadwick Boseman (Greene and Associates|Management 360)
         Michael B. Jordan (WME)
         Lupita Nyong'o (CAA)
 
4. I Can Only Imagine ($11 MM)
Dirs: Andrew Erwin and Jon Erwin (Prism Creative Management|Zero Gravity Management)
Writers: Alex Cramer (Circle of Confusion), Jon Erwin (Prism Creative Management|Zero Gravity Management), Brent McCorkle (Unrepped)
 
Cast: Dennis Quaid (WME)
         Madeline Carroll (Innovative Artists|Curtis Talent Management)
         Cloris Leachman (Innovative Artists|Juliet Green Management)
 
5. Pacific Rim: Uprising ($28 MM)
Dir: Steven S. DeKnight (CAA)
Writers: Steven S. DeKnight (CAA), Emily Carmichael (Verve|Writ Large), Kira Snyder (Gersh|Echo Lake Management), T.S. Nowlin (ICM|Management 360)
 
Cast: John Boyega (WME|Identity Agency Group – UK)
         Cailee Spaeny (WME|Identity Agency Group – UK)
         Scott Eastwood (UTA|Joanne Horowitz Management)