Box Office Round Up - 2-12-2018
Box Office Round Up - 2-12-2018
By:
William Morey
on
Mon, 02/12/2018 - 10:47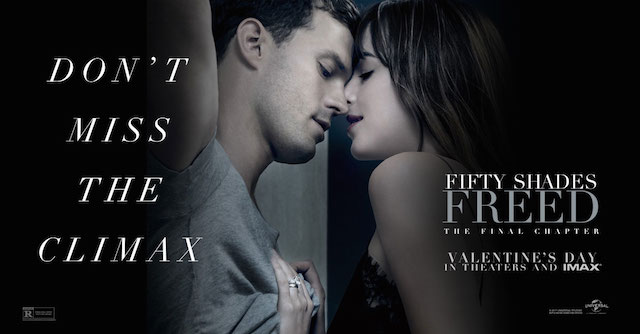 It was a weekend for lovers as the final film in the Fifty Shades of Grey saga – Fifty Shades Freed – took the top spot at the box office over Valentine's weekend earning $39 million. That total brings it just a little shy of the last year's entry, Fifty Shades Darker. Still, I'll bet UTA is happy with the results as they represent director James Foley and star Jamie Dornan, and WME is pleased as they represent star Dakota Johnson.
 
In second place with $25 million as the big counter-programmer for the weekend was Sony Animation's hybrid Peter Rabbit. This puts UTA in a good spot as they also represent director Will Gluck. CAA should be happy regarding stars Rose Byrne and James Corden (who voices the titular rabbit). Paradigm reps co-star Domhnall Gleeson, who is really having a moment.
 
Coming in third with $13 million is Clint Eastwood's docudrama The 15:17 to Paris. This film presents an interesting situation in terms of representation, as the leads are played by the men on whom the story is based, and director Clint Eastwood is repped only by the law firm Gang, Tyre, Ramer & Brown. That said, the heroes of the story are finding their way in Hollywood, with Anthony Sadler represented by Entertainment Law Partners and Alek Skarlatos repped by Mckeon/Myones Management. At the time of this writing, we have been unable to find representation for Spencer Stone.
 
Going down all the way to the fourth place (after spending its eight weeks in release in either the number one or number two spot) is Jumanji: Welcome to the Jungle with $9.8 million. While The Greatest Showman is still doing the Greatest Showman thing, which is to say rolling in the cash and rounding out the top five.
 
In sixth and seventh place is The Maze Runner and Winchester. The Post, Hostiles, and The Shape of Water round out the top ten in eighth, ninth, and tenth place.
 
Next week: Marvel's Black Panther opens and will be a huge hit, and I suspect it will surprise most analysts with how successful its opening weekend will be (I've been saying this for months so, I'm betting my non existent reputation on this prediction). The other big release is Aardman Animation's Early Man, which will give Peter Rabbit a run for its money.
1. Fifty Shades Freed ($39 MM)
Dir: James Foley (UTA|Elevate Management)
Writer: Niall Leonard (Valerie Hoskins and Associates – UK)
 
Cast: Dakota Johnson (WME)
         Jamie Dornan (UTA|Troika – UK)
         Arielle Kebbel (Principal Entertainment LA)
2. Peter Rabbit ($25 MM)
Dir: Will Gluck (UTA)
Writers: Rob Lieber (Verve|Fourth Wall Management) and Will Gluck (UTA)
 
Cast:  James Corden (CAA|United Agents – UK)
          Rose Byrne (CAA|RGM Artists – AU)
          Domhnall Gleeson (Paradigm)
3. The 15:17 to Paris ($13 MM)
Dir: Clint Eastwood (Gang, Tyre, Ramer and Brown)
Writer: Dorothy Blyskal (WME)
 
Cast: Alek Skarlatos (McKeon/Myones Management)
         Anthony Sadler (Entertainment Law Partners)
         Jenna Fischer (WME|Odenkirk Provissiero Entertainment) 
 
 
4.   Jumanji Welcome to the Jungle ($9.8 MM)
Dir: Jake Kasdan (WME)
Writers: Chris McKenna & Erik Sommers (UTA|Magnet Management), Scott Rosenberg and Jeff Pinkner (WME),  
 
Cast: Dwayne Johnson (WME)
         Kevin Hart (UTA|3 Arts)
                     Karen Gillan (UTA)
 
5. The Greatest Showman ($6.4 MM)
Dir: Michael Gracey (CAA|Partizan - UK)
Writers: Jenny Bicks (UTA) and Bill Condon (WME|Anonymous Content)
 
Cast: Hugh Jackman (WME|Lou Coulson - UK)
         Michelle Williams (WME|Brillstein)
         Zendaya (CAA|Monster Talent Management)