Weekend Box Office Report - 11-6-2017
Weekend Box Office Report - 11-6-2017
By:
William Morey
on
Mon, 11/06/2017 - 11:23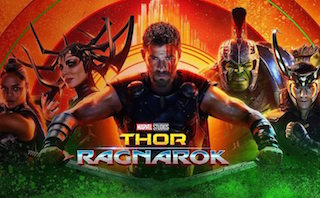 Well, it took a couple weeks, but CAA is back on top at the box office, thanks to Thor's mighty hammer and some bad moms celebrating Christmas.
It was not the end of the world for Thor: Ragnarok which opened in the U.S. this weekend to $121 million, Marvel's seventh largest opening and $35 million more than the last Thor film. CAA reps director Taika Waititi and stars Chris Hemsworth and Cate Blanchett. In a canny bit of counter programming the Bad Moms Christmas themed sequel opened strongly at the number two spot to the tune of $17 million. Which should make CAA happy as it represents writers/directors Jon Lucas & Scott Moore and stars Kristen Bell and Mila Kunis.
There wasn't much else new to report box office wise everything in the top ten are hangers on from previous weeks, except for the Sean Hannity produced Let There Be Light which expanded this week and cracked the top ten.
Next week can a Murder on the Orient Express shake the god of Thunder? Either way CAA will be happy as they represent director and star Kenneth Branaugh and Johnny Depp.
1. Thor: Ragnarok ($121 MM)
Dir: Taika Waititi (CAA|Manage-Ment)
Writers: Eric Pearson (ICM), Craig Kyle (The Shuman Company), and Christopher Yost (Verve|Industry Entertainment)
Cast: Chris Hemsworth (CAA|Morrisey Management – AU|Roar)
         Tom Hiddleston (WME|Hamilton Hodell – UK)
         Cate Blanchett (CAA|RGM – AU)
2. A Bad Moms Christmas ($17 MM)
Dir: Jon Lucas & Scott Moore (CAA)
Writers: Jon Lucas & Scott Moore (CAA)
Cast: Kristen Bell (CAA)
         Justin Hartley (Innovative Artists)
         Mila Kunis (CAA|Curtis Talent Management)
3. Jigsaw ($6.7 MM)
Dir: Michael and Peter Spierig (UTA|The Pitt Group)
Writers: Peter Goldfinger (Paradigm|The Cartel), and Josh Stolberg (UTA|Circle of Confusion|)
 
Cast: Laura Vandervoort (Maverick Artists Agency|Grandview Management)
         Tobin Bell (Abrams Artists|Industry Entertainment|Noble Caplan Abrams – CA)
         Hannah Emily Anderson (Gersh|Gary Goodard Agency – CA|Primary Wave Entertainment)
4. Tyler Perry's Boo 2! A Madea Halloween ($4.6 MM)
Dir: Tyler Perry (WME)
Writers: Tyler Perry (WME)
Cast: Tyler Perry (WME)
          Patrice Lovely (Enloe Entertainment)
          Brock O'Hurn (O'Hurn Media)
5. Geostorm ($3 MM)
Dir: Dean Devlin (CAA)
Writers: Dean Devlin (CAA), Paul Guyot (Paradigm|Writ Large)
Cast: Gerard Butler (CAA|Alan Siegel Entertainment)
         Abbie Cornish (UTA|Untitled Entertainment)
         Jim Sturges (Garricks - UK|CAA)