Box Office Round Up - 11-5-18
Box Office Round Up - 11-5-18
By:
Kevin McNamara
on
Mon, 11/05/2018 - 14:21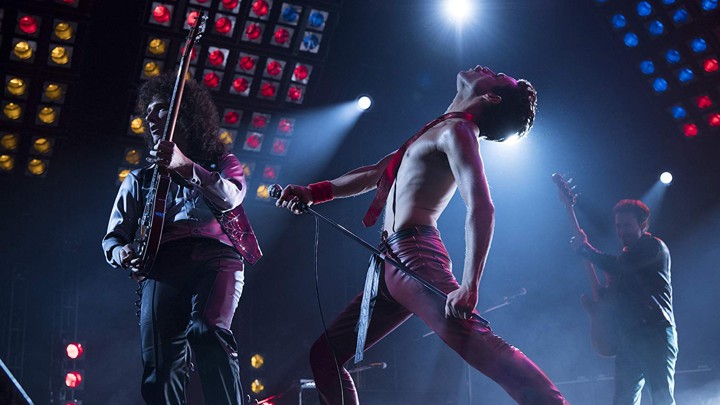 This is real life, this is not fantasy - Bohemian Rhapsody cleaned up at the box office in its opening weekend, roaring to a $50 million start that's put a troubled production in the rearview. The musical biopic, with Rami Malek (Mr. Robot) in the iconic role of Freddie Mercury, fired director Bryan Singer midway through filming but was mandated to still give him the final directorial credit. But all of that is ancient history now, with Malek's performance in particular recieving rave reviews.
Coming in at second place was the fantasy adventure The Nutcracker and the Four Realms. A retelling of the classic Nutcracker story, this one features an ensemble cast that includes legendary actors Helen Mirren and Morgan Freeman. The bronze medal for the weekend goes to the Tyler Perry rom-com Nobody's Fool, starring Tiffany Haddish and Tika Sumpter. Haddish stars as an ex-con trying to help her sister find the man that catfished her. 
Both A Star is Born and Halloween fell back this week, rounding out the top five. Next week, the J.J. Abrams-produced zombie thriller Overlord hits theaters, as well as the computer-animated Christmas comedy The Grinch, with Benedict Cumberbatch in the titular role. We can't wait!
 
 
1. Bohemian Rhapsody ($50 MM)
Director: Bryan Singer (Bad Hat Harry)
Writers: Anthony McCarten (CAA), Peter Morgan (UTA)
 
Cast: Rami Malek (WME | Brillstein)
        Lucy Boynton (CAA)
        Gwilym Lee (Gersh)
 
 
2. The Nutcracker and the Four Realms ($20 MM)
Dir: Lasse Hallstrom (UTA), Joe Johnston (Paradigm)
Writer: Ashleigh Powell (Gersh)
Cast: Mackenzie Foy (Coast to Coast | Lighthouse)
        Kiera Knightley (CAA)
        Helen Mirren (CAA)
 
 
3. Nobody's Fool ($14 MM)
Dir: Tyler Perry (WME)
Writer: Tyler Perry
Cast: Tiffany Haddish (APA | Artists First)
        Tika Sumpter (WME | Brookside Artist Management)
        Omari Hardwick (WME | Lasher)
 
 
4. A Star is Born ($11.1 MM)
Dir: Bradley Cooper (CAA)
Writer: Bradley Cooper, Eric Roth (CAA), Will Fetters (WME|3 Arts)
Cast: Bradley Cooper (CAA)
        Lady Gaga (CAA)
        Sam Elliott (Gersh | Berwick & Kovacik)
 
 
5. Halloween ($11 MM)
Director: David Gordon Green (CAA)
Writers: David Gordon Green, Danny McBride (CAA), Jeff Fradley (CAA)
 
Cast: Jamie Lee Curtis (CAA)
        Judy Greer (CAA | Artists First)
        Andi Matichak (Innovative)