Box Office Round Up - 1-2-2018
Box Office Round Up - 1-2-2018
By:
William Morey
on
Tue, 01/02/2018 - 11:39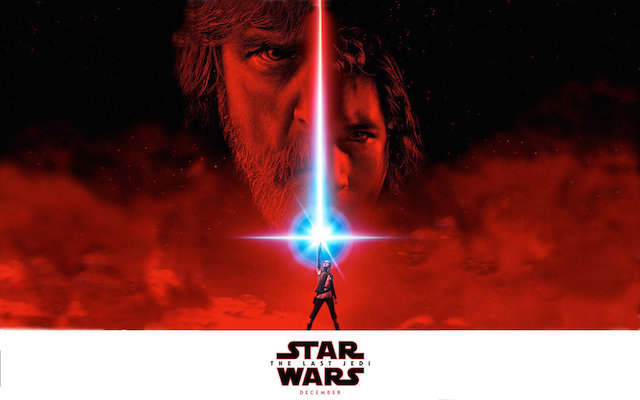 Happy New Year! We're back with our first Box Office round up of 2018!
As expected Star Wars: The Last Jedi dominated the box office over the Christmas and New Years holiday weekend earning $533 million domestically and $1 billion world wide in its first three weeks of release. What was unexpected about Star Wars was that the film had roughly a 76% drop from its first weekend to its second. And while that ratio seems crazy high (and there was a fan backlash to the film) most analysts were saying the reason for this drop was because Christmas fell on a Monday. And the numbers bear this out as the second to third weekend didn't have as large of a percentage drop. But the film is now the highest grossing movie of 2017, so I doubt anyone at Disney or Lucasfilm is losing too much sleep over it.
The Last Jedi's success should be making CAA happy as the represent writer/director Rian Johnson, star Daisy Ridley and newcomer Kelly Marie Train. Other folks joining in the Star Wars party; Gersh who reps Adam Driver, WME repping John Boyega, and UTA who reps Oscar Isaac.
Sony on the other hand did a canny bit of counter programing by pitting the Rock starring Jumangi: Welcome to the Jungle against Star Wars – and the gamble paid off earning $169 million domestically over the Christmas and New Years weekends. WME should be very happy about this as they represent director Jake Kasdan, and stars Dwayne Johnson and Jack Black. UTA should be happy as they rep Kevin Hart and Karen Gillan.
Rounding out the rest of the top five – Pitch Perfect 3 did reasonably well and made $63 million domestically over the two weekends. Fox's The Greatest Showman came in fourth with $49 million domestically, while Blue Sky's Ferdinand came in fifth.
Next week: I expect The Last Jedi to remain in the #1 spot as there aren't many wide releases opening that will knock it down. The only major release is Molly's Game – an Oscar hopeful which will open wider.
Happy New Year!         
Star Wars: The Last Jedi ($53 MM)
Dir: Rian Johnson (CAA)
Cast: Daisy Ridley (CAA)
         Adam Driver (Gersh)
        John Boyega (WME|Identity Agency Group - UK)
2.  Jumangi Welcome to the Jungle ($50 MM)
Dir: Jake Kasdan (WME)
Writers: Chris McKenna & Erik Sommers (UTA|Magnet Management), Scott Rosenberg and Jeff Pinkner (WME),  
Cast: Dwayne Johnson (WME)
         Kevin Hart (UTA|3 Arts)
         Karen Gillan (UTA)
3.  Pitch Perfect 3 ($17 MM)
Dir: Trish Sie (UTA)
Writers: Kay Cannon (WME), Mike White (UTA)
Cast: Anna Kendrick (CAA)
         Hailee Steinfeld (CAA)
         Brittany Snow (WME|Principal Entertainment)
The Greatest Showman ($16 MM)
Dir: Michael Gracey (CAA|Partizan - UK)
Writers: Jenny Bicks (UTA) and Bill Condon (WME|Anonymous Content)
Cast: Hugh Jackman (WME|Lou Coulson - UK)
         Michelle Williams (WME|Brillstein)
         Zendaya (CAA|Monster Talent Management)
Ferdinand ($11 MM)
Dir: Carlos Sandanha (WME)
Writers: Ron Birch & David Kidd (ICM|Gotham Group), Robert L. Baird (Morris, Yorn, Barnes, Levine, Krintzman, Rubenstein, Kohner, and Gellman), and Brad Copeland (UTA)
Cast: John Cena (ICM)
         Kate McKinnon (UTA|Principato Young)
         Bobby Canavale (WME|Framework)