Box Office Round-Up ~ 1-3-2023
Box Office Round-Up ~ 1-3-2023
By:
William Morey
on
Tue, 01/03/2023 - 10:52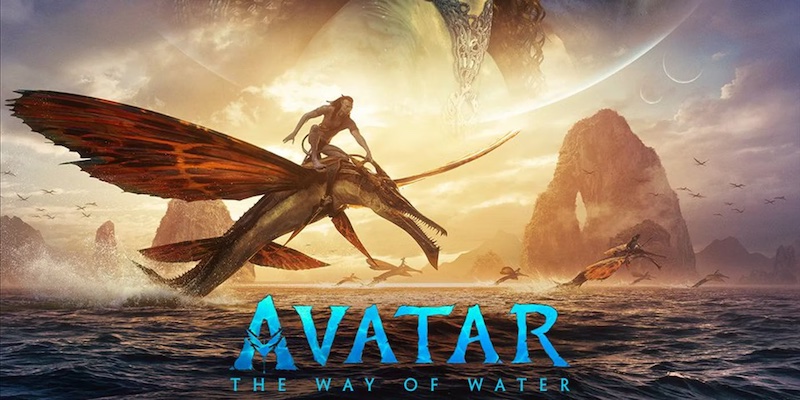 The big winner coming out of 2022 was James Cameron's long in the making sci-fi epic sequel Avatar: The Way of Water. Which as per usual with a Cameron picture started by not meeting expectations and then...exceeding them. As the movie opened box office experts thought the film would line up with Rogue One: A Star Wars Story box office wise, but blew past those expectations and has now been making almost $20 million a day. So far the domestic total for the film is at $446.1 million and $956.9 overseas for a worldwide total of $1.4 billion. Furthermore it scored the best January Monday ever with $21.1 million beating out the previous record holder American Sniper. The lingering question with Way of Water is now whether it can surpass $2 billion, with virtually no competition until February it seems very likely, and as they say never bet against James Cameron. However, the box office was still down coming out of 2022, and it's unclear if this trend will continue despite a whole slew of blockbusters waiting in the wings for 23. 
After Avatar, Puss in Boots: The Last Wish came in second place with $16.7 million. The DreamWorks sequel's domestic total now rests at $66.9 million and $68.8 million. The film should hang around for awhile considering it's the only family movie avalible at the moment. Black Panther: Wakanda Forever came in third in its 7th week in release with $4.8 million. The MCU film's worldwide total is now at $820.1 million. In fourth place with $4 million is the Whitney Houston biopic I Wanna Dance with Somebody. And Babylon round out the top five with $2.6 million.
In the top ten, Violent Night is still hanging around along with The Whale,The Menu, The Fabelmans and Strange World.
1. Avatar: The Way of Water ($66.8 MM)
Director: James Cameron (CAA)
Writers: James Cameron (CAA), Rick Jaffa and Amanda Silver (WME), Josh Friedman (UTA), Shane Salerno (CAA)
Cast: Sam Worthington (CAA|Anonymous Content)
         Zoe Saldana (CAA|LBI Entertainment)
         Sigourney Weaver (UTA)
2. Puss in Boots: The Last Wish ($16.7 MM)
Director: Joel Crawford and Januel Mercado (Summit Talent and Literary.
Writers: Tommy Swerdlow (Jackoway Austen Tyerman, et al), Tom Wheeler (WME), Paul Fisher (UTA)
Cast: Antonio Banderas (NuCo Media Group)
         Salma Hayek (CAA|Entertainment 360)
         Florence Pugh (CAA|Brillstein)
3. Black Panther: Wakanda Forever ($4.8 MM)
Director: Ryan Coogler (WME)
Writers: Ryan Coogler (WME), Joe Robert Cole (Circle of Confusion)
Cast: Letitia Wright (3.16)
         Lupita Nyong'o (CAA)
         Danai Gurira (UTA)
4. Whitney Houston: I Wanna Dance with Somebody ($4 MM)
Director: Kasi Lemmons (Gersh)
Writer: Anthony McCarten (CAA)
Cast: Naomi Ackie (CAA|Hamilton Hodel - UK|Range Media Partners)
         Stanley Tucci (CAA|Curtis Brown Group - UK|Anonymous Content)
         Ashton Sanders (Hyperion)
5. Babylon ($2.6 MM)
Director: Damien Chazelle (WME|Exile Entertainment)
Writer: Damien Chazelle (WME|Exile Entertainment)
Cast: Margot Robbie (CAA|Entertainment 360)
         Brad Pitt (CAA|Brillstein)
         Diego Calva (WME)
Source: Box Office Mojo, The Numbers