Western Conference Finals: Game 1
Western Conference Finals: Game 1
By:
Kevin McNamara
on
Tue, 05/15/2018 - 13:52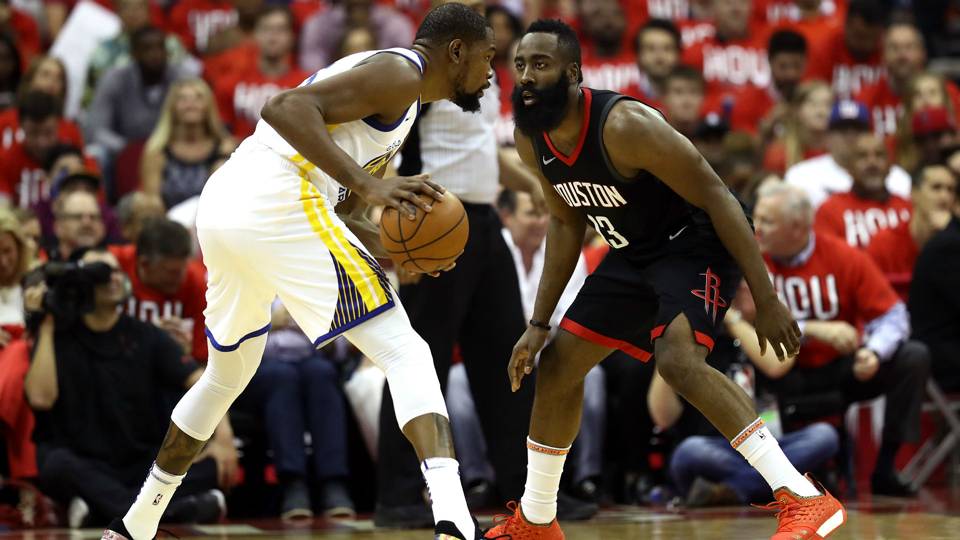 Welcome to another edition of WhoReps' look at the NBA Playoffs. Today we'll be looking at Game 1 of the Western Conference Finals. Enjoy! Click a bolded name to see their page.                                            
                                                   
For the first time since hiring coach Steve Kerr four years ago, the Golden State Warriors opened a playoff series on the road, as the underdog. The Houston Rockets had finally dethroned them as the best team in the NBA during the regular season, and set a team record for wins with 65, no easy feat for a such a storied franchise. Led by the presumptive MVP (and agentless) James Harden, as well as perennial all-pro point guard Chris Paul, the Rockets achieved liftoff in the first two rounds by dispatching Minnesota and Utah with relative ease. They came into this game rested, injury-free, and confident as can be that this is their year to break Golden State's monopoly on the Western Conference. None of it mattered.
 
After an up-and-down, fast-paced first half that saw both teams exchanging three pointers and ended tied at the break, the Warriors put their foot on the gas in the third to gain a comfortable edge that they wouldn't relinquish. Like just about every other team in the league, Houston simply had no answer for the unstoppable Kevin Durant. He hit tough jumper after tough jumper over Rockets' bigs Clint Capela and the ageless Nene, while being far too big and long for the scrappy P.J. Tucker to handle. In the end, he finished with 37 points that came far easier than any Conference Finals game should allow. This allowed the Warriors to get away with a less-than-great performance from fellow MVP Steph Curry, as he continues to return from the knee injury that kept him out for the last few weeks of the regular season and their first-round series against San Antonio. Splash Brother Klay Thompson picked up the slack, with his usual array of backbreaking three pointers that range somewhere from unguardable to impossible. 
 
What should scare Houston is that they got a such a dominant performance from the incomparable Harden- 41 points on a his usual array of step-backs, jumpers and trips to the free throw line. Their 'Big 3' with Paul and Capela as well as Sixth Man of the Year winner Eric Gordon also generally held up their end of the bargain, if slightly inflated by garbage time. Yet, they lost by 13 at home in a game in which Steph Curry only made one three. Their other role players - Tucker, as well as the UCLA tandem of Trevor Ariza and Luc Mbah a Moute, have to give them more if they want to tie this series up before heading to the notoriously raucous Oracle Arena in Oakland. If not, the league is almost certainly looking at a fourth straight trip to the Finals for one of the most dominant dynasties the NBA has ever seen.