FRANCHISED - November 2017
FRANCHISED - November 2017
By:
William Morey
on
Fri, 11/10/2017 - 15:28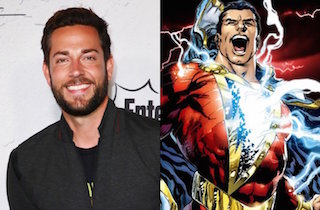 So, Zachary Levi was cast this week as Shazam in New Line's upcoming DC Universe film … Shazam.
 
This is a big win for Levi. Even though this won't be his first superhero rodeo, it will be his first starring role, after playing Fandral in Thor: the Dark World and Thor: Ragnorok (he's in it, but barely).
 
For those not in the know, Shazam is the superhero persona of ten-year old Billy Batson, and when he says the magic word "Shazam," he turns into a Superman-esque hero. So, basically it's Big meets Superman. And here's a fun fact for your next trivia night – Shazam was actually the first superhero to make it to the big screen all the way back in a 1941 Republic serial (he was called Captain Marvel at the time, which is a confusing legal quagmire we're not going into here).
 
These days Shazam is a lower-tier, lesser-known superhero. This shouldn't be terribly shocking, after all. It was the lesser known hero -- Iron Man – that launched the Marvel Cinematic Universe, which has influenced everything in our current cinematic landscape.
 
So, we here at WhoRepresents, thought it'd be fun to look at three comic book heroes (and their reps) who are becoming household names, and why sometimes it's good to look to obscure characters to bring in audiences.
 
Black Panther
Films: Captain America: Civil War -- upcoming Black Panther and Avengers: Infinity War.
Played by: Chadwick Boseman (Greene and Associates|Management 360)
 
The first black superhero in mainstream American comics, the wise and regal T'Challa is chief of the technologically advanced African nation of Wakanda.
 
After a well-received debut in Captain America: Civil War, audiences will be treated to a movie completely devoted to Black Panther in February 2018. Because of audiences hungering for stories speaking to the black experience and featuring black leads (see success of Get Out and Girls Trip), February's Black Panther is going to be a monster hit – seriously, don't let anyone tell you otherwise.
 
Harley Quinn
Films: Suicide Squad, upcoming: Suicide Squad 2 (2019) possibly Untitled Joker/Harley, and Gotham City Sirens.
Played by: Margot Robbie (CAA|Management 360|Aran Michael – AU)
 
Harley Quinn has been a fan favorite character since her debut in 1992's Batman The Animated Series. But her first live action appearance was in 2016's Suicide Squad, which saw Joker's on again off again girlfriend joining up with a group of other villains as part of a government task force. And while that film was critically reviled it did make bank at the box office.
 
Now, Harley seems like an odd character to headline a movie, because she's a villain. But the truth is there haven't been that many female anti-heroes before and that's a fresh enough approach for audiences. It also doesn't hurt that Margot Robbie is great in the role, or that Suicide Squad seemed designed to break the character out.      
 
Captain Marvel
Films: Captain Marvel (2019)
Played by: Brie Larson (WME|Authentic)
 
Captain Marvel will be the first female superhero to headline a Marvel Studios movie. If DC's Wonder Woman is any example, this will only help matters at the box office.
 
Here's the truth about obscure comic book characters: It doesn't really matter how unknown the character is. If the movie presented gives its audience a fresh perspective and something they haven't seen before, they'll turn out for it. And there really isn't a better and clearer example than Marvel Studios; did anyone outside of comic book fans care who Iron Man was before 2008? The film went on to both kick off the current wave of comic book movies and become the reason every movie studio is now chasing that elusive "extended universe" golden ticket. At the end of the day, give audiences something new and they will come – regardless of how obscure a comic book character was to begin with.