Eastern Conference Finals: Game 1
Eastern Conference Finals: Game 1
By:
Kevin McNamara
on
Mon, 05/14/2018 - 12:43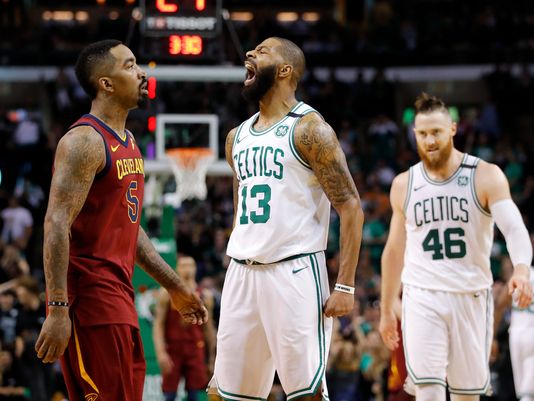 Welcome to the first installment of WhoReps' look at the NBA Playoffs. Today we'll be looking at the Eastern Conference Finals, and tomorrow we'll examine the West. Enjoy!                                               
                                                   
LeBron James and the Cleveland Cavaliers came into Game 1 of the Eastern Conference Finals as confident as they had been in months. Following an up-and-down season with an unprecedented level of turmoil and roster movement on a team with Lebron, then a hard-fought, seven game series against Indiana in the first round, Bron and the Cavs sprung to life in sweeping the conference-leading Toronto Raptors in four games in the second round. Finally, it seemed order had been restored in the conference Lebron has dominated for over a decade. It took Brad Stevens & the Boston Celtics twelve minutes to erase it.
 
The Celtics jumped out to a dominating first-quarter lead and were never seriously threatened after that in the 108-83 clobbering, suddenly putting all the questions about these Cavs and James' future back into the spotlight. Boston's young wings, rookie Jayson Tatum and sophomore Jaylen Brown, were all over the court - providing versatility, defense, and shot making that Boston didn't have last year when Cleveland easily dispatched them. One play in the first half stands out, where Brown - an Aaron Goodwin client- emphatically rejected Cavaliers All-Star Kevin Love in the post, got the rebound, and quickly came down court to hit a jumper to push the lead to 24. Meanwhile, steady veterans like Marcus Morris and Al Horford simply outplayed their Cavalier counterparts. Morris, in particular, was under the microscope as LeBron's primary defender, and more than held his own. The Dan Brinkley client had 21 points and 10 rebounds, while holding LeBron to just 5 points on 2-6 shooting when he guarded him. That was the theme of the day- the Cavaliers simply could not score on Boston's stout defense. Cleveland went 0-13 from three in the first half, the worst mark of ANY LeBron James' team in his entire career.
 
The Celtics simply came out better prepared and more energized from the opening tip. Cavs coach and CSE signee Tyronn Lue is going to have to reach into his bag of tricks to outsmart Boston coaching prodigy Brad Stevens, whose wife is his agent and attorney. The two wings Cleveland acquired at the trade deadline - Jordan Clarkson from the Lakers and Rodney Hood from the Jazz, are going to have to play better. Hood in particular caused controversy in the series against Toronto when he reportedly refused to enter the game late in a blowout, angry over not playing. The ISE & Travis King client has to put that behind him if he wants to secure a big contract this summer, and this Cavs team needs everyone if they're going to reach their fourth straight Finals. LeBron said after the game that his 'level of concern is at zero,' but it certainly must be higher than it was 48 hours ago. Game 2 is Tuesday night!